The obituary of the Rev. Dr. Canon Gordon Brent Stiller
"Look at that golden light!" That is what Brent would say as he steered a boat past the woods and the rocks of the Kawartha Lakes at a certain time in the early evening. Brent delighted in sunsets, birdsong, a perfectly barbequed steak, well-thought out arguments, a constant stream of music and the accomplishments of other people. He welcomed the life story of every Uber driver he met.
Always and most of all, Brent delighted in his wife and children. He loved his family so.
Brent noticed beauty and he noticed pain. He paid attention. Brent stood beside the person awkward and alone at a party. Bold and tender, our man could talk to anybody about anything and regularly he was called to hard conversations and difficult situations. In those spots most of us work to avoid, Brent stepped in willingly. He was a gifted priest, but most important to Brent was being a good husband, father, and son.
Our Brent died on January 13 at the age of 59, after a brief and mighty struggle with post-transplant lymphoma.
Brent has bid farewell for now to his best friend and wife Karen and his children Holly, Thomas, and Erik, and his daughter-in-law Nicoli; all his future, precious grandchildren who will know about their papa; his parents David and Evelyn Stiller (his sister Jill went to heaven before him); his brother Rod and his sister-in-law Michele; the nieces, nephews, aunts, in-laws, uncles and cousins he delighted in from both sides of the family; multitudes of friends and the people of St. Peter & St Paul's Anglican Church of Ottawa.
Brent was a loyal friend and companion to his circle, and his circle was vast. He loved well and was well-loved in return.
Travel brought him energy and laughter, and exploring different countries and cultures was a passion, especially the African countries he lived in and later visited with his family. Showing his children Burkina Faso was one of his best moments. Brent was adventurous and savoured both the ordinary and the extraordinary moments that add up to a life well-lived.
In his ministry, which spanned the country, his focus was always on equipping other people. Brent abhorred the spotlight and worried about those who sought it. A graduate of Regent College in Vancouver and Gordon-Conwell Seminary in Massachusetts, Brent was the Canon for Clergy Care for his diocese along with his duties at St. Peter & St. Paul's. Clergy care was a passion Brent had intended to pursue more fully in the coming years. He had also recently been appointed as an adjunct faculty member of Packer College in St. John's, Newfoundland, which made him so happy. (In the future, Karen also would have made Brent play his guitar more.)
It feels like Brent was taken from us mid-story. "Why us?" we are tempted to ask. "Why not us?" Brent would surely have answered, even as he would have hated that leaving us was the cause of such pain.
Brent took meticulous care of himself after his kidney transplant and was so grateful to his donor. He ate carefully, walked daily, slathered himself with sunscreen and wore a big, controversial hat. He loved his hat. As the post-transplant lymphoma on his brain took him away from us these past weeks, Brent remained determined to return to his full and beautiful life. He loved us deeply, he fought fiercely, and he did not want to leave us yet.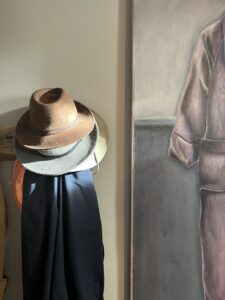 The strength he showed in his passionate determination to live for us is the same we will show now as we live without him.
We believe our beloved Brent has stepped fully into the true golden light where he is safe, healed and waiting. We are thankful to God for our husband and father. Taught by Brent to choose gratitude, we will continue to do so in the time and space that now stands between us.
You can watch Brent's funeral here. We took very special care with every part of the service, to make sure it reflected our beautiful man, which meant sacred music, along with a guitar solo. Our family invites donations in honour of Brent to the newly created Brent Stiller Clergy Care Fund through the Anglican Network in Canada, or to St. Peter & St Paul's Anglican Church, Ottawa.