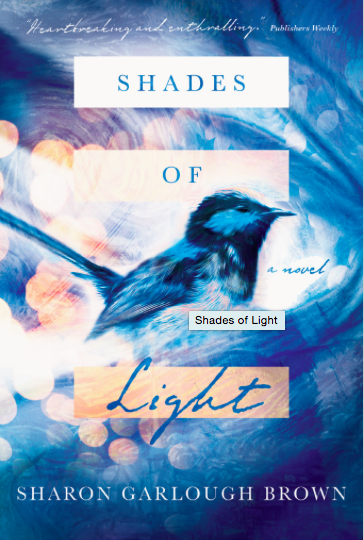 Sometimes when I read contemporary Christian fiction, especially if it's been written for women, I am left with this thought: Oh. That is who I am supposed to be.
But when I read Sharon Garlough Brown, author of the Sensible Shoes series, and most recently Shades of Light, I think: That is who I am. And there is hope for me yet. That is a very important distinction. I've written about the Sensible Shoes series before. How I stumbled upon it at the Festival of Faith and Writing at Calvin College, and bought the first book in the series, Sensible Shoes: A Story About the Spiritual Journey,because I heard Sharon speak about envy at that writer's conference, in a way that was so honest it startled me, and I recognized myself in her words. So, I lined up with a bunch of other people and bought the book. Then, I couldn't put it down. It was about ordinary women with real struggles, trying to find their spiritual way, and making mistakes and being imperfect, and often grouchy. And then inching forward in grace.
With her newest book Shades of Light, Sharon paints a picture of mental health challenges, anxiety, depression, grief and ultimately the hope and community and friendship she writes about so well. Art is a character in this book too, and I really liked that. I read it at the cottage this summer, and then I handed it to my husband and said, "Read this. I know you will love it." He did. This is an important book, written by an important writer. And that moment at the cottage, also known as Place of Reading by the Lake, was the first time that I have ever handed him a novel that might very, very loosely and most neatly fit into the genre of Christian women's fiction, and said: "Read this." I think that says something.