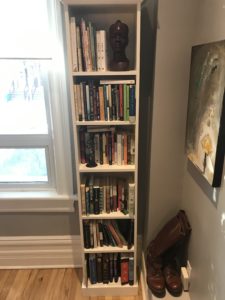 After a long wander through the bookcase-less desert, we now have two, standing like beauties on either side of our big front window. This makes me so happy. We did the clever thing of purchasing IKEA bookcases and having someone smart and handy add crown-molding on the top so they look a little bit fancy, and grown-up. But now I've gone and told you, so it doesn't really matter.
Now they are full. Brent knew to just stand back and smile and let me do my thing. He has bookcases in his office at the church. No one said it out loud, but these are kindof all mine.
There is still a box or two of books downstairs, but the stars have made it up the stairs and are just there, right now, at my fingertips. I really love my books. If the house was burning, and all else being equal (meaning the people I love, my dog and some pictures) were already outside, I would grab them by the armful, especially the autographed Lamotts, from that conference where I cried in gratitude after I stood in line for almost two hours and had the chance to tell her what I felt.
I think part of it is that the mystery of relaxing and unfolding most fully into myself as a writer, is so deeply entwined with reading other writers and letting them soak into me and my creativity and my craft, and my thinking, or so I'd like to believe. Buechner's memoirs, Anne Lamott's spiritual writing, Marilynne Robinson's Gilead and Lila, Ann Patchett's essays and stories…I could go on and on, and if you know me, you know that. Thank you bookcases. Thank you books.