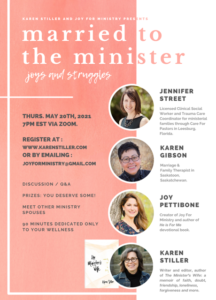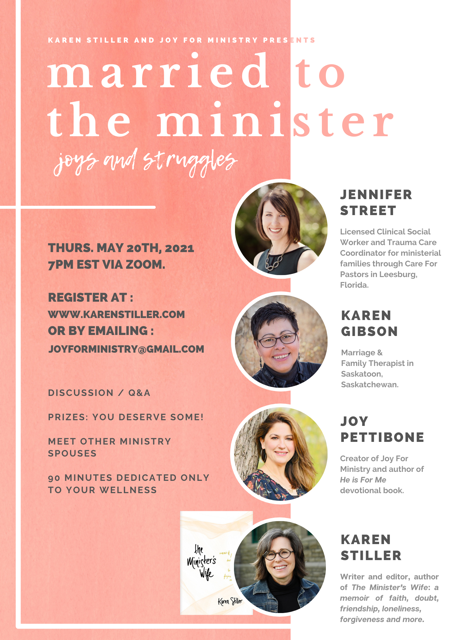 I have something fun to share. On Thursday, May 20th, if you're married to a pastor you are warmly invited to "Married to the Minister" a virtual gathering to be heard, seen and encouraged.
Since the release of The Minister's Wife: a memoir of faith, doubt, friendship, loneliness, forgiveness and more I have heard from so many pastor's wives, * in particular, who feel a bit alone sometimes, even in the joys and blessings of this unusual life. I've also met some really great ministries who are creating ways to nurture and encourage us, and often out of their own experiences, which makes their work especially awesome.
So, that's what this zoom gathering is about. My friend Joy Pettibone from Joy for Ministry and I have invited two wonderful and experienced ministry specialists and therapists (hooray for therapists! we love you therapists!) to join us in conversation. We will take questions. We'll explore answers. We will talk. Maybe we'll laugh a bit. There will be prizes, because we like them and they are a lot of fun to gather and to give. We hope you will join us for this gentle evening. You can register here or by emailing Joy at joyforministry@gmail.com.
*Yes, I know there are men married to ministers. No, not a single one has reached out to say they need a friend. Yes, some of my best friends are female pastors and priests. Yes, this will be a good evening.