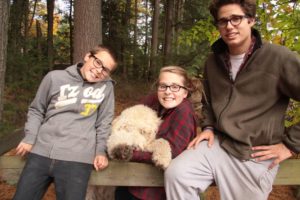 These days Dewey and I walk more slowly than we ever have around our neighbourhood. It used to be exercise for me, and now it's more of a stroll of sniffing. Dewey starts out beside me and ends up behind me, tired.
How do we love an old dog well?
Old dogs are loved best with gentleness, by patiently coaxing them down the stairs every morning and by slipping them their joint pain supplement wrapped in raw bacon.
Dewey used to shake and shiver beside me when it was time for a mid-day stroll, pulling me out of my work. Now I am more likely to nudge him awake and tell him that it's a good idea for us to go back outside, pulling him out of his sleep. As he naps all the day long, like an old man in a lazy-boy chair, I hope he's dreaming of running through a dog park, and of our kids when they were younger and what it's like to arrive at the cottage and wander into the lagoon. He still does that, and goes for a quick, muddy dip.  We used to groan, but now we cheer. It's good to see the mischief of the young in the dignity of the old.
You love old dogs with bowls kept always full of cold water, with long, languid naps on cool floors and easy conversation when they're awake, just the occasional warm word. You love them with an abundance of treats, and by taking them with you on the shortest of errands, and with long pats that start from the top of their heads and go all the way down their backs, just the way they like it.
You love an old dog by taking the time now to whisper thank you into his silky ear.
One day last week Dewey stopped and sat right down in the middle of the sidewalk. That has never happened before. It's old dog language for take me home please, and you can give me some cheese.
Which I did.