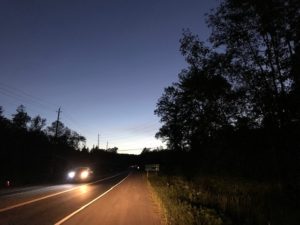 The other night we drove through Lakefield, a beautiful, small town in the Kawartha Highlands. We had just wolfed down "Halifax-style" donairs from Ken's Pizza and Wings, which we had driven past in nearby Peterborough. Except we didn't drive past. We stopped and discovered they do know how to do them Halifax-style (sweet and sticky), so well done to you Ken!
We detoured into Lakefield — which basically is just a slight right-ish turn of the steering wheel, very gentle — to look for houses and places named in Sisters of the Wilderness, an absorbing piece of historic non-fiction by Charlotte Gray, which Brent is currently reading. I told him a story about meeting Gray when I did my MFA and how I sat struck speechless beside her in a pub on campus, afraid of her and her poise and class and skill and style. How did scaredy-cat me get stuck right beside her? We paused in front of Margaret Laurence's house on Regent Street, right across the road from the Anglican Church where our good friends once served. Laurence wrote The Diviners in that house, so we pulled over and nerded out for just a moment. "Morag read Pique's letter again, made coffee and sat looking out at the river, which was moving quietly, its surface wrinkled by the breeze, each crease of water outlined by the sun….No boats today. Yes, one. Royland was out, fishing for muskie." 
We passed the ice cream shop which has served Brent the occasional cone for decades now, little Brent and then big Brent. Back when he was a child there was a sign, or maybe it was just something his dad said, about it being the BEST ICE CREAM IN THE WORLD, which Brent believed, as a boy would. The best in the whole entire wide world. I would have pushed for a cone if we hadn't been so full of donair.
Then we meandered out of Lakefield and followed the setting sun with its hot pink trails and "look at me!" splashes of orange down the quiet road and watched for deer but hoped for bear, as you do.
Going for a drive is another delicious side dish served up on our common table this weird season. It's a thing to do again. Climb in the car, have the little discussion about air conditioning or windows down (sometimes I argue for both at the same time, even just for a few minutes), and then just drive around chasing the sun and your memories.