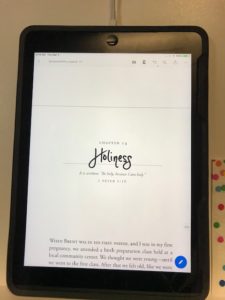 On the day before I flew to Chicago I spent some time arranging outfits on my bed for Holly to inspect and approve (or not). I wanted to look professional, yet warm, be comfortable, but not too casual. Fun, but not weird. Who knew about the crinkly, unwelcome sounds made by the blouse and sweater combo I chose for day one (classic cut! bright colour!)?
Within an hour of arriving at Tyndale House, my publisher, I wore a neon-orange large men's t-shirt provided by the wonderful recording team. It did not crinkle when I lifted my arm to swipe upward on the iPad. It did nothing for me at all, really. I wore the droopy t-shirt around all day long, meeting people. I spilled salad dressing on it at lunch so that I wouldn't look only like a traffic cone, but also like a hoser.
Here's what I learned about recording an audio book:
I really am a helpless spiller and should not be trusted with nice clothes.
Bring throat lozenges.
Wear chap stick to prevent lip smacking, which I learned from the brutal honesty of Dave, the EFC podcast producer who has to listen to my lip smacking.
Plastic water bottles crinkle too, especially when they're cold. Drink room temperature water from a glass.
It's more tiring than you would think, reading your own work all day long for 2.5 days. Plan to go to T.J. Maxx if you can, for a little break in the evening. You will be able to buy a can opener to replace your old rusty one.
Listen to other people who know what to do. This is almost always key to success.

These are the people who know what they are doing.
It's a strange feeling for me to imagine people I don't know — maybe even stranger to imagine people I do know — listening to me read The Minister's Wife out loud to them. But it's also kind of cool. Maybe they will listen like I listen to things, walking around my neighbourhood with my dog on a leash, or vacuuming or cleaning the kitchen for the 100th time, doing all those ordinary, beautiful things that connect us to the ordinary and beautiful each other.