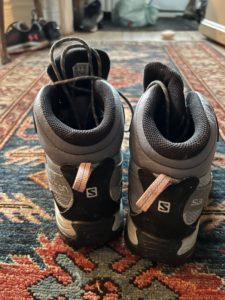 Today, I clipped the leash onto Dewey, my most reliable walking partner — he always says yes, he never says no — and coaxed him 4275 steps, according to my iPhone.
It was a fruitful walk.
I complimented a woman on her purple corduroy pants — wide wale.  "Thanks!" she called out, and seemed mildly surprised, although she shouldn't have been, because that's how great they were. An old man rode slowly down Bank Street on his bike, smoking a cigarette. We exchanged smiles. Window washers worked their magic with ropes and pulleys on a pleasantly clean building I passed. A father held his tiny son and they waved goodbye to the moving truck that drove away from them, turning left on Percy.
And that's not all.
The sun warmed my shoulders and I pulled over now and then to make notes on my phone. That's because good walks almost always stir up good ideas. Catch those when you can.
Set free, our minds can roam along with our feet.
I settled on the angle for an upcoming episode of the podcast I help with in my day job.  The inspiration for two talks I'll give at a retreat in September bubbled up, and I think that now maybe I'll be able to sleep more soundly through the cooling nights of August. Because I was listening myself to a podcast about the power of asking questions of yourself, I thought of a way to ask instead of showing or telling in a writing project that is padding its way closer to me every day on its little cat paws.
It is possible that these ideas might not work. Maybe they're not so great, after all. But not-right-now ideas always move us closer to eventually-we-find-what-we-need-ideas. They have to.
Go for a long walk. I can't recommend it enough for solving problems, creating new stuff, and seeing fantastic purple pants.