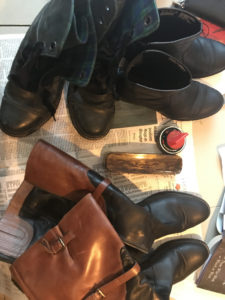 The other day I spread sections of the newspaper I knew I was done with (business and sports, incase that's not obvious) on a corner of our dining room table. I retrieved our little basket of shoe polish, cloths and brushes and grabbed my boots from inside our front door. It was time once again to polish my boots.
I grew up with my RCMP dad shining his boots and shoes regularly enough that I can still see it clearly. He sat on the step outside our back door in fair weather, and worked away, each pair lined up in front of him, first dull, then soon shiny and clean.
I brush and polish and think of my dad. My Doc Martens that I love most of all — and my other, lesser and taller boots — soften and shine under my ministrations. I take my time.
Cleaning out my closet brings me almost the same amount of household habit satisfaction. I have accepted that I am very good at organizing things, and terrible at keeping them that way. It's okay. I am okay. But for a while, all my blue shirts will hang together, and the white ones as well. Hangers will point in the same direction, until they soon will not. This is true of kitchen drawers, jewellery boxes, pantry shelves and anything I line up in a row.
For a while, though, there is order and it is pleasing to sort and sift, straighten and tidy. It doesn't have to last to be good.
All of this bringing to order reminds me of what we can still control, and this is so important these days. So are small pleasures. I've been thinking about carrot cake lately, a fair bit actually (like, a surprising amount). So yesterday I baked a cake, so that I could have a soft, generous slice, still warm from the oven. And no, of course it did not come out of the pan in one piece, but I just shrugged, there's so much else to worry about on this planet. I made chicken soup. I ate some of both and dropped the rest of each on Holly's doorstep. These small things are what we might remember. That would be good.