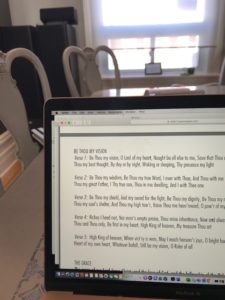 The other night I drifted off to sleep with our neighbour's party music in one ear and Brent murmuring "The global death toll has now reached 10,000," in the other. I think our neighbours are definitely having more fun.
I personally don't want to sit on our balcony and listen to loud music late at night, at least not yet.
But I don't want them to either, which makes me mean, as well as not as much fun.
But this morning, if they listened closely — we are in a semi-detached house now, after all — they might have heard Holly and I gamely joining in with "Be Thou My Vision" with our church, via Facebook.
It was good to sing. Let's sing.