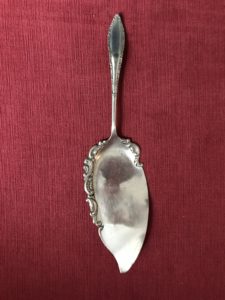 I brought a pie lifter home with me from Nova Scotia this fall. I also brought six piles of kindling wood tied together with twine, a stained glass window from a pub in Tatamagouche that my dad made, four bottles of pickled carrots I canned with my sister, and a fistful of pussy willows. But it's the pie lifter I've been thinking about the most.
It's silver coated, so I polished it up the other day, surreptitiously, during a zoom call. It's bent at one end. It has seen better days. Those better days were in the hands of my mother and before that her mother, in church halls and dining rooms, heaving up and plating heavy chunks of fruit pie baked in the lightest of pastry. I have seen my mother close her eyes in pleasure over her pie pastry. She knows it's flakey. I mentioned to her this summer, with hesitation in my heart and a sense of foreboding I ignored, that I had read somewhere if you freeze the butter first, it makes even better pastry.
"My pastry does not need any help," my mother answered. She's right of course. She is famous for her pies. She needs no man's help.
I asked for the pie lifter when I found it in a drawer in my parent's kitchen. My mom told me a story about finding it herself in a church kitchen, and claiming it back as her mother's own. I'm so glad she did. I'm going to frame it so it never gets lost again and because it is a piece of art and of my heart.
I don't bake pies and I doubt if I ever will, but I have also learned never say never when it comes to matters of becoming like ones mother.
With this family artifact I want to remember the hundreds of pies and the pleasure they gave to family and friends and also to my mother and my nana who peeled and cut the apples and the peaches, who sifted the flour and then held their strong hands under the running tap water until the water was cold enough. I want to remember how pies warm and welcome and what it is like to set a beautiful table and sit across from other people and eat together, which is also how we live and love together, and we will do all that and more, again and again and again.