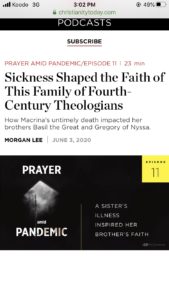 At the very beginning of the pandemic, when someone picked the world upside down and shook it until the coins fell out of her pocket, I wrote a prayer for pastor's wives and recorded it as part of Christianity Today's "Prayer Amid Pandemic" podcast series.
I love this idea of having followers of Christ around the world praying for other followers of Christ around the world. The prayer I wrote is at the bottom end of this episode, "A Sister's Illness Inspired her Brother's Faith." 
So much has gotten better since I wrote this prayer. Churches are finding their way. The world is slowly reopening. Thanks be to God for that. And we will still need so much prayer in the days and weeks and months ahead.
Dear God,
It is a hard time to walk behind someone and hold them up when they need it
and to walk beside someone when neither of you are sure where you are going
It's hard to see our loves who lead your churches and pastor your people not know quite what to do in these strange days.
I pray for all the people behind the people caring for your people
I pray for strength and courage and creativity for the makers of meals from whatever is in our cupboards;
For the ones who stroke the weary backs and say "Now sit down for a while."
I pray for encouragement for the encouragers, and peace for the peacemakers. I pray for the fearful who help to soothe the fears spoken out loud in the middle of this long night.
I pray for the homes of your clergy that they would be places of comfort and quiet when that is what is needed and joy and loud laughter when it's time for that.
I pray you would bless our pastors and preachers, our priests and our prophets and the families who love them.
Amen.